It benefits to keep a close eye on current trends, especially when your bathroom is asking for a makeover or you just need a few quick ideas to give it a fresh look. There are numerous ways to modernize the decor in this significant area of the home. Today, we've gathered some bathroom decor ideas 2023 to give a stylish touch to your shower room.
Some simple concepts don't require building or renovating. Others relate to more significant changes, in case you're considering a complete bathroom renovation. You may modernize your outdated bathroom with the help of each of them. Try out the given ideas depending on your preference, bathroom interior, and budget.
Why Consider Bathroom Makeover?
Increased Value
Prospective buyers find a well-kept, efficient bathroom to be quite enticing. In the end, this will make selling your house a lot simpler. Given the demand for these facilities, many home buyers will pass over a home with only one bathroom area.
Reduced Energy Bills
Even while remodeling your bathroom could be expensive, the long-term financial advantages could be significant. You can save your energy bills significantly by modernizing the technology and functionality of your bathroom. This will eventually offset the expense of the restoration. Currently, a wide variety of water-saving products are offered.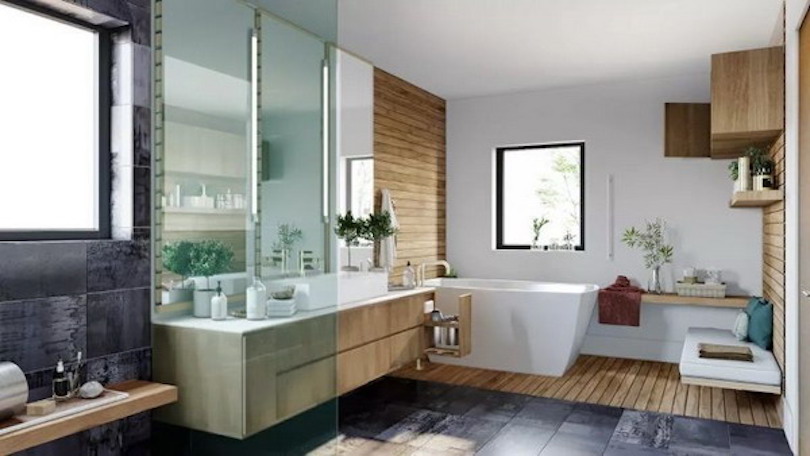 More Luxury
Who doesn't like to live in a little luxury? Nobody! Therefore, you may create a space you're proud of and an area you genuinely want to spend time in by remodeling or even just upgrading your bathroom. You should spend your money on a place you love and spend a lot of time in. The variety of opulent bathroom accessories that are currently offered makes it quite simple to recreate a spa ambiance in your own house.
Also Read: Custom Vanity Tops For Stylish Bathroom
Better Functionality
Consider adding the right functional elements into your bathroom to make it appear just right for your showering time. This is to improve your bathroom's overall aesthetic and practicality.
Best Bathroom Decor Ideas 2023
Here are various ideas to consider for your bathroom decoration:
Vibrant colors and geometric patterns
In the past, bathrooms were frequently constructed in muted colors like white, cream, or beige. However, more and more people these days are drawn to daring designs and colors.
Don't be afraid to play around with color in your bathroom, whether you choose to add patterned wallpaper or paint the walls a bold hue.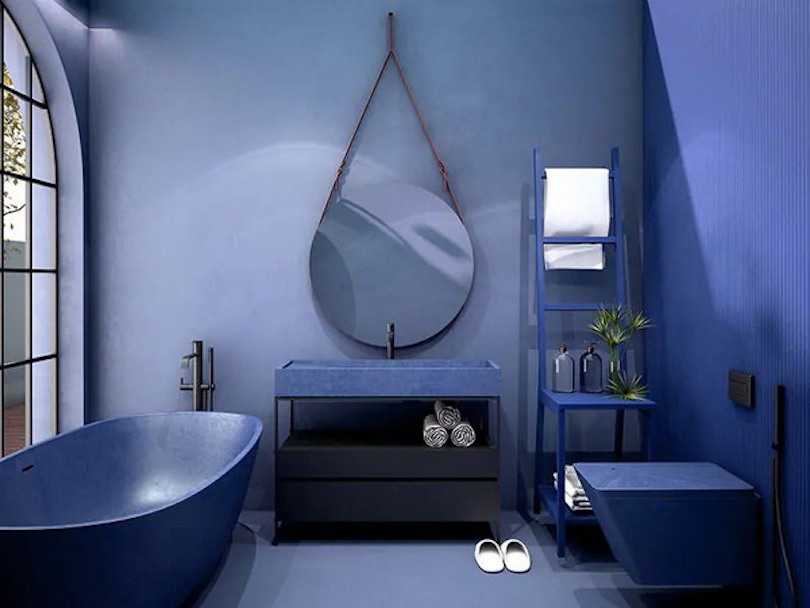 Natural materials
Homeowners are preferring natural materials for bathroom decor ideas in 2023 these days. Natural materials like wood, stone and even plants fall under this category. One method to contribute to the development of a more calming and serene environment is by using natural materials. It will help you to add a calm appearance and functionality to the given space.
Freestanding tubs
The installation of freestanding tubs is a developing trend in bathroom design. They act as a focal point for the space and may give the appearance that your bathroom is more opulent. Make careful to choose a freestanding tub that goes well with the current decor if you plan to put one in your bathroom.
You can choose round, rectangular, oval, or any other tub shape according to the interior of your bathroom. If you want an eccentric look, consider a striking bathtub to make it a statement piece in your restroom.
Walk-in showers and bathtubs
People these days are preferring more walk-in showers for modern bathroom decor ideas. These are great options to take into account whether you have a little space or desire a shower that appears larger. Additionally, multiple showerhead showers are becoming more and more common. So, you can choose any as per your desire and personal preference.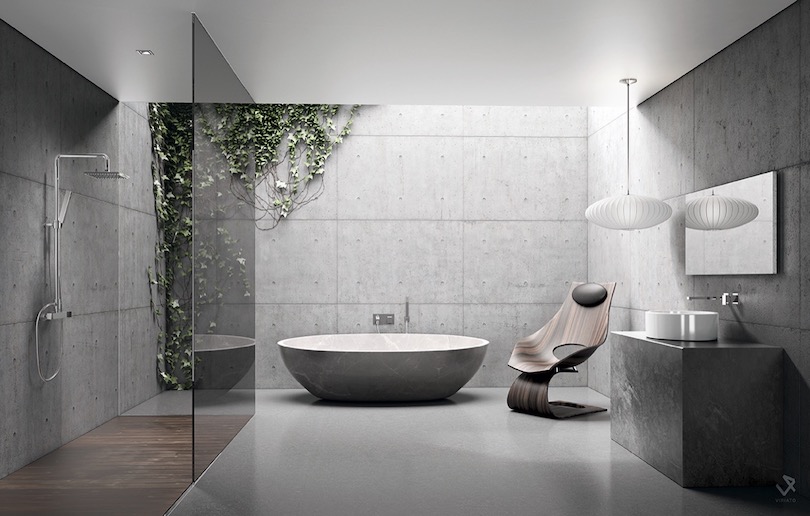 Heated floors
A bathroom with heated floors is a great method to keep the area at a pleasant temperature. They are especially useful in the winter when you don't want to step from a warm shower onto a chilly floor. They make excellent investments.
If you live in a cold region, you must install heated floors to enjoy your shower time without feeling cold.
Glass walls
Glass walls are being used more frequently in bathroom design. In addition to letting in natural light, they provide the illusion that your bathroom is bigger than it is.
If you are worried about your amount of privacy, you can choose tinted or frosted glass. This design is especially common in bathrooms that are on the smaller side because it can provide the sense of more open space.
It is best to look for a specialized company to buy the top-quality glass walls for your powder room. The installation of glass walls will help you create a separating bathing area within your bathroom. Meanwhile, the rest of the area will remain dry for dressing up or getting ready.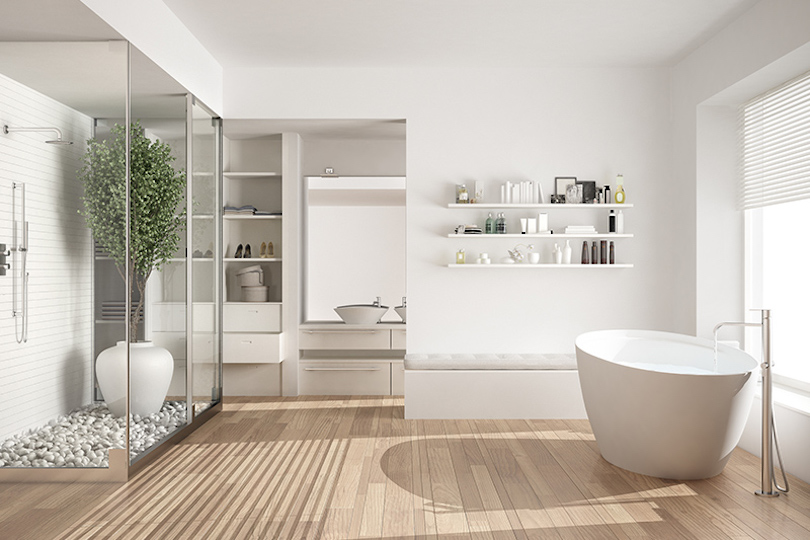 Floating vanities
As a design choice for bathrooms, floating vanities are rising in popularity. They can make your bathroom look cleaner and more modern while also creating the impression that it is larger. Make careful to choose a floating vanity that blends in with the rest of the bathroom's design if you're considering installing one.
Wall-mounted toilets
In terms of bathroom design, the installation of toilets that are linked to the wall is growing in favor. They assist save space in bathrooms that are already crowded while providing a sleek and contemporary appearance.
If you plan to install a wall-mounted toilet in your bathroom, you should choose a design that goes well with the room's aesthetic.
Bidets
A developing trend is the addition of bidets in newly constructed restrooms. They provide a method for using the restroom that is not only hygienic and clean but also conserves paper and water. If you're considering buying a bidet, be careful to choose one that goes with the bathroom's design.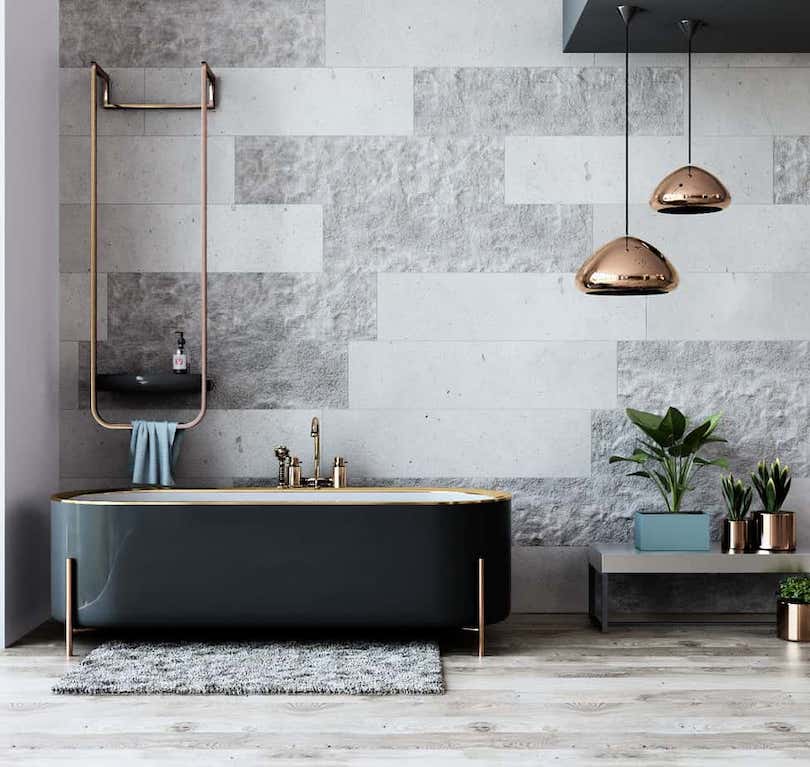 Smart technology
Smart technology is increasingly being used in bathroom design. There are numerous items on the market right now that can improve your bathroom's use and functionality in several ways. It's crucial to choose things that go well with the design of your bathroom if you're thinking about adding smart technology there.
Remodeling your bathroom will likely be a significant undertaking, but it won't have to be if you plan it out wisely. You will be able to design a place that is not only stylish but also useful if you use these 10 top trends as inspiration for your forthcoming bathroom renovation.
Start immediately with the bathroom renovation with these ideas. Not only will you be happy with the outcome, but your guests will also be pleased with it. So tell us, what bathroom decor ideas 2023 you liked the most? Share your views in the comment section below.